Book Review: Seeking Balance in an Unbalanced Time (Greenebaum)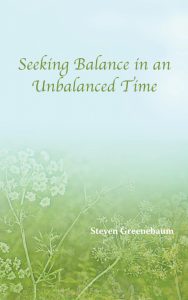 Goodreads has posted a very supportive book review of
Seeking Balance in an Unbalanced Time
by Rev./Dr. Steven Greenebaum. In part, the revew reads:
Steven Greenebaum has written another first-class book. Or perhaps, at only 36 pages, it's better called a booklet. Nevertheless, its impact is outsized to its length, as Rev. Greenebaum gives a fine perspective on how to maintain one's mental health in the face of the current pandemic (and all the other ills of the world, too).
Check out the rest of the review on Goodreads
HERE
.
Steven Greenebaum is also the author of
One Family: Indivisible
.
For more posts by and about Steven and his works, click
HERE
.